Hi again......
Hi again......
---
well, I introduced myself in newcomers to recovery...wrong place...I went to the domestic violence counselor today. Just introduced ourselves, essentially. I told her I didn't really know why I was there. She said she thought we could build my self esteem. I bought the book suggested. It is enlightening to say the least. I simply feel very low. Head hurts, feel really sad. want this emptiness to go away. unsure what my purpose in life is.......just lost....
| | |
| --- | --- |
| The Following 4 Users Say Thank You to passionfruit For This Useful Post: | |
I AM CANADIAN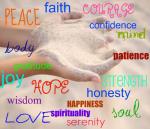 Join Date: Jun 2010
Location: Niagara Region, Canada
Posts: 2,578
gosh, i have been there and felt that....what i did? lite a candle...and watched the flame for awhile....dont know why...i just wanted some CALM in my life at the time...sometimes...the answers just come in a calming place within...
hang in there...
THIS TOO SHALL PASS
| | |
| --- | --- |
| The Following 2 Users Say Thank You to fourmaggie For This Useful Post: | |
Member

Join Date: Apr 2010
Location: Alaska
Posts: 2,913
Hugs, passionfruit. My first day talking with a domestic violence counselor was the same way. She made a point of telling me to not plan anything immediately after talking with her except some way to pamper myself - long soak in the tub, candle light or even just going to bed for a nap or the night. Personally, I went to bed, but I hadn't been sleeping much/well for a long time; I needed that sleep.

Please take some time to pamper yourself in some way. As much as it doesn't feel like it, it will pass, Fourmaggie is right.
Currently Active Users Viewing this Thread: 1
(0 members and 1 guests)

Posting Rules
You may not post new threads
You may not post replies
You may not post attachments
You may not edit your posts
---
HTML code is Off
---