What do you Think???
Member
Join Date: Dec 2010
Location: Northfield NJ
Posts: 31
What do you Think???
---
Hi Everybody--Want to know what you all think? I have posted here pretty recently about my AH married 10 years. Long time A but when we met had an8 yr period of sobriety. He waited until we were married a few years torelapse (and thats when he told me his first wife left with their 2 year old for the Alcoholism-he only got supervised visitation). So seven years of chronic relapsing, 3 duis in 20 yrs-most recent 2007-so many rehabs -i think we are at 4 and he had several rehab admits before I met him. Longest period of sobriety I have seen in 5 months. Admits he is an A--hates AA-says it is for losers. He has no follow through. Thinks he can do it alone.

Kicked him out 3 months ago due to drinking while watching our babies, 7,5, 15months. Fallin down drunk while I do my night shift at the hospital 7p-730a. Lucky CPS didn't take my babies. I take the blame, because I know he is an A and he "promised not to drink while caring for them" but I left him in charge anyway. That screams Child Endangerment" I am as stupid as he is. He went to his parents 800 miles away, no financial support at all, lousy attitude but says he is sober almost 3 months and attending AA 3x a day and it is going well.

Now--says he has a job and wants to come here to see his family. "Dying to see his babies" wants to stay at the house and then fly back --in other words commute so he has work. Construction industry--bad economy--equals not much work available. He, Of Course, talks all of the AA talk, but its hard to gauge because I can't see what his actions are. Is this a bad idea? My little girls are asking about daddy constantly--baby may not even remember him-didn't let him come for Xmas and have severely limited his phone contact with them the past 3 months, he hasn't really asked to talk to them that much anyway. (Punitive--bad right?) Don't want the whole "daddy" thing to cloud my decision to allow him to visit for a few days and stay at our house. No romantic talk between the two of us, and no divorce talk either. You guys with the experience where are you?

Thanks Hailee


CHRONIC Relapser, lots of broken promises,
| | |
| --- | --- |
| The Following 2 Users Say Thank You to Hailee For This Useful Post: | |
| | |
| --- | --- |
| The Following User Says Thank You to Hailee For This Useful Post: | |
Member
Join Date: Dec 2010
Location: Northfield NJ
Posts: 31
I am not worried about verbal abuse. He gets that it won't be tolerated from me--plus I can just toss him out. He has this way of making me feel bad. Of course we argue over his addiction and in the past when that happens I didn't have any problem laying into him either about abandoning his family for alcohol, being selfish, being a loser etc. He makes me feel bad, because now he just says things about himself like " I know I am a loser, a drunk, I am stupid,..." I think he is using reverse psychology one me! (LOL) That's one of the reasons I had to stop doing that, it makes me feel terrible, it's inappropriate, solves nothing and he remembers it FOREVER! One time he cried and said he hated when I say those things because he cares about what I think of him. Not productive--doesn't change anything.

Anyway--what do you think? Am I asking for trouble?

Hailee, how can your AH
"talk[s] all of the AA talk"
and yet
"hates AA-says it is for losers? "He has no follow through. Thinks he can do it alone".
He needs to be doing more than
"talking the walk".
You have been married 10 years and the longest period of sobriety that you have seen is 5 months. He has failed to provide financial child support, let alone any type of support for you and his children. It sounds like you are being the only one responsible.
If he has three months of sobriety that is not enough time to gauge to find out if he truly wants recovery. However, there are 800 miles separating you two, so how can you know what he's
actually doing
?
If he has just stopped drinking for the last three months, that, in my mind, is not wanting recovery. If he had gone to an AA meeting for the ninety days that would show you
more
that he seriously wanting recovery.
If he wants recovery, and is willing to make the effort to get it, then he is ready to take certain steps. These are the principles that will make his recovery possible.
1. Admitted that he was powerless over his addiction or his addict or alcoholic and that his life had become unmanageable.
2. He came to believe that a Power greater than himself could restore him to sanity.
3. He made a decision to turn his will and his life over to the care of God as he understood Him.
4. He made a searching and fearless moral inventory of himself.
5. He admitted to God, to himself, and to another human being the exact nature of his wrongs.
6. He was entirely ready to have God remove all these defects of character.
7. He humbly asked Him to remove his shortcomings.
8. He made a list of all persons he had harmed, and became willing to make amends to them all.
9. He made direct amends to such people wherever possible, except when to do so would injure them or others.
10. He continued to take personal inventory and when he was wrong promptly admitted it.
11. He sought through prayer and meditation to improve his conscious contact with God as he understood Him, praying only for knowledge of His will for him and the power to carry that out.
12. Having had a spiritual awakening as a result of these steps, he tried to carry this message to addicts and, and those who love him and to practice these principles in all his affairs.
Alcoholism is a disease, as is co-dependency, being addicted way beyond love toward the unacceptable behavior of the addict or alcoholic. The sooner we face our problems within society, in everyday living, just that much faster do we become acceptable, responsible, and productive members of that society.
There is one thing more than anything else that will defeat us in our recovery; this is an attitude of indifference or intolerance toward spiritual principles. Three of these that are indispensable are honesty, open-mindedness and willingness. We must also increase our Faith in a Higher Power, a force bigger than ourselves, which is capable of healing we could never do all by ourselves. With these steps toward changing ourselves first, we can begin again.
Just my personal opinion. Take what you like and leave the rest.
Love and Peace,

Phoenix
To thine own self be true.
Join Date: May 2009
Location: U.S.A.
Posts: 5,924
To answer your question, yes, I think letting him back into your life is asking for trouble. It has been my experience that the alcoholic will weasle his or her way back into my life whatever way they can through all sorts of tactics and manipulations. They will tell you what you want to hear, try to make you feel sorry for them, tell you things to hurt you and get you to react emotionally, make promises, make threats, pass the buck to get you to take on their responsibilities, etc etc etc. It can be very difficult to remain steadfast with these people and if you are in the least bit wishy-washy, it is very easy to find yourself right back in the situation you fought and worked so hard to eliminate. This is why it is so important for me to write things down-because it can be hard to remember a month or two later.

My suggestion is, re-visit all the reasons you kicked him out in the first place. Make a list of what kind of life and dealings you want with this person and do not allow anything less. (((hugs))) we are all behind you whatever you decide.
I can tell you how I have handled similar. I will not allow my xah to stay overnight at my house. I will allow him here to visit during the day but he can't stay overnight. I trust that he isn't going to steal me blind or anything like that so I would even leave him here alone for an afternoon, but he can't stay overnight.

I've held that line, even at Christmas. I have an ex that is dying to see his kids too. Yet he calls sporadically, doesn't send them cards or letters, and can't figure out a way to pay for a motel room. He cuts me off when I talk about them so he can moan about himself. What he wants is to move back in here so he can go back to his easy life that I enabled.

If he wants to see his babies badly enough he'll figure out how to do that without staying at your house to do it. He's working, he's not supporting them, he's living with his mother, he says he's not spending all his money on booze, so one would assume he has an extra $200 to get a motel room when he comes down to spend time with them.
Member
Join Date: Oct 2009
Posts: 234
I would err on the side of keeping him out of my house for the night. I would be less likely to regret that decision, than letting him stay and having difficulty getting him out.

My RAH stays at our house when I am out of town, or when my son and I are gone. I guess he would take something, but so far that hasn't been his MO. For background, he went to rehab 16 months ago, and has not returned home (my boundary). He says he would like to come back, but I'm not comfortable.
Wipe your paws elsewhere!
Join Date: Dec 2004
Posts: 3,672
The best way to judge future behavior is past behavior. I don't think this is a good idea for you or your children. I wish I could remember the name of the recent thread where one poster let her partner stay overnight "to see the children" and then he refused to leave. I think the name of the thread was something along the lines of "A Refuses to Leave." You might find that thread helpful.
I AM CANADIAN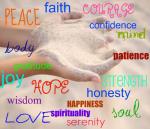 Join Date: Jun 2010
Location: Niagara Region, Canada
Posts: 2,578
has not hit his rock bottom....and wont with the I.S.Ms.( I self and me attitude)

dont do it!! met public...for him to see the kids...not in your home!! met at a park or something, if you are really thinking about it....
| | |
| --- | --- |
| The Following 2 Users Say Thank You to fourmaggie For This Useful Post: | |
Member
Join Date: Dec 2010
Location: Northfield NJ
Posts: 31
Thanks everyone
---
Intellectually I agree with everyone too. I think I just wanted to hear it from you guys here. I always allow him to make me feel sorry for his situation, and of course my little girls are saying "I miss daddy-daddy daddy daddy--" He does love them and I think me too. Loves Alcohol and Porn WAY more, or else he would have stopped both of these a long time ago.

I would like for him to see the kids since it has been 3 mos and he is claiming to be sober the entire time and attending meetings 3x a day. Attitude doesn't reflect that yet-(no way to gauge if that is true or not--I refuse to ask his parents as he wouldn't get really drunk in front of them anyway --and they always say ("he is doing wonderful").

I will ask him to stay somewhere else while he is in town. It makes the most sense. I don't know if I mentioned that this visit is just a few days and then he is going back to his parents.

Taking him out of the game was not easy for me to do and I feel like I have made a lot of progress getting him out of my head, but I still have a lot of work to do. No babies involved, I would have been gone years ago--his behavior was horrible, being brought home by the police 2x in 6 weeks, dui's, disappearing for days at a time so he could really binge on alcohol and porn. When he started getting really trashed I would throw him out of the house and he would be gone for days. Didn't matter if I had a shift at the hospital or not, as that was "my problem" as far as watching the babies. Rum bottles hidden all over, a couple of magazines hidden. Absolute Insanity.

I believe it is true that when they are gone you tend to forget how outrageously the behave or somehow diminish their actions. Glad I just reminded myself. Thank you for all of your support and awesome advice!!!!

Hailee
"
Taking him out of the game was not easy for me to do and I feel like I have made a lot of progress getting him out of my head, but I still have a lot of work to do."
Dear hailee
It sounds to me like he has a whole lot to change before he is ready for a relationship with his family.
My STBXAH used the excuse of wanting to be with his children. it has been (let me count) three months of No contact from his side. be careful that he does not manipulate you still and uses the children as a tool to make you soften up.
Currently Active Users Viewing this Thread: 1
(0 members and 1 guests)

Posting Rules
You may not post new threads
You may not post replies
You may not post attachments
You may not edit your posts
---
HTML code is Off
---