family visiting, I'm missing AH so much
Member
Join Date: Sep 2010
Posts: 28
family visiting, I'm missing AH so much
---
Hi all,

I'm posting during a tiny bit of free time...my family is in town visiting and this is making me miss my AH so very much. This is the first family gathering-type event since he left and it is so hard without him. I talked about it with my brother because he knows a bit more about what is going on, but I am not discussing this with my parents. Just having this "family time" without the person who has been my main family for 11 years is so hard.

All I keep thinking about is how he is doing better and how "maybe it will work out if he comes back." I haven't had any time to myself so I'm not having time to think this through.

I also need to just apologize in advance because I won't even be able to post again for another couple of days until my family leaves...I am just writing this when they all went to sleep...I just needed to tell this to a group of someones who understand. And I will go to my new and hopefully now regular Al-Anon meeting this Sunday to think about myself and what I need. But in the day to day of family stuff, I can't help but think I need him.

Thanks everyone.

phlegmatic, I suggest you start journaling about your healing process as you work on your recovery of your codependency. Healing always begins with recognizing the problem, and earning knowledge about your codependency. Start your journal by answering essential questions about yourself. Developing an understanding of the roots of your codependency can provide a foundation for your healing. However, as wonderful as insight and knowledge can be, they, alone, will not heal your pain nor provide you the healing necessary for changing codependent behaviors and patterns.
Simply codependency is loss of self and anything that contributes to your loss of self is codependency. When an individual has a loss of self it is with this emptiness that you meet life. Loss of self creates a learned helplessness and you are less able to meet life on life's terms. There is less of you to deal with life and life requires all of you to meet it 'head-on.' Codependent dynamics hinder you from thinking your own thoughts and feeling your own feelings. Codependency is real, and it exists within self and within relationships. When there is not enough of you for you, surely there cannot be enough of you to share with someone else.
Codependency recovery invites building a sense of self. Recovery includes building self esteem for yourself, and not over function in your relationships. Recovery is about regaining your personal power that was lost in the dynamics of codependent relationships. It is about feeling empowered to live one's life without the need of approval, the fear of abandonment, of being preoccupied with pleasing others, about caring too much, and in general overfunctioning in relationships. Recovery is claiming back self. Needs, wants, and feelings can begin to be identified and communicated as you move toward less codependent relationships.
Communication skills, self-esteem building and improving how you manage stress will, also, be areas that will need addressed in your codependency recovery. These "tools" will assist in regaining one's own sense of self that was lost in codependent relationships. You get to find your voice by examining who you are and clarifying your needs and wants. You say "yes" when you mean "yes" and "no" when you mean "no." Stress management requires positive coping skills and that requires you to have a strong sense of self. When sense of self is stronger you have better coping skills and can manage the stress in your life.
Learning detachment with love will assist and be your mainstay in your recovery. Detaching is about learning to balance self in relationship with others. Detaching allows an emotional space to open, creating the opportunity for less dependency in relationships. It will be in this new space that one can begin to develop a sense of "who am I?"
In addition to the journal, attending Ala-Non meetings and posting on SR facilitates the healing process. Try to find the name of a psychotherapist who specializes in addictions and has an understanding of codependency.
Just my personal opinions. Take what you like and leave the rest.
Love and Peace,

Phoenix
| | |
| --- | --- |
| The Following 2 Users Say Thank You to Phoenixthebird For This Useful Post: | |
:ghug3

You are not alone in this. I'm having a hard time adjusting to being a family of just me - I was with XAH for 18 years. It does get easier - this is my 3rd (!) Christmas without him and it still feels odd not to have our Christmas traditions together. I'm trying to create my own instead. It's a good thing to have your family there to lean on. Let them support you where they can and help you reclaim the season for just you. Keeping busy helped me too and it does sound like you will have your hands full!

Take care.
| | |
| --- | --- |
| The Following 2 Users Say Thank You to bookwyrm For This Useful Post: | |
Member
Join Date: Dec 2010
Location: Chicago, IL
Posts: 204
Yeah, its hard to leave because I keep thinking about the husband I HAD and can't quite let that go. My husband and I had a great nine year marriage but unfortunately we have been married 11 years! I want my old husband back, we have tons of great memories but that person is gone. I need to leave and am working on it but am so sad about it, for me and my kids. He was great to them too and they won't understand why he had to leave. Difficult all around but you are truly fortunate he's out of your life.
| | |
| --- | --- |
| The Following User Says Thank You to Ladybug0130 For This Useful Post: | |
I AM CANADIAN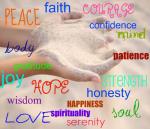 Join Date: Jun 2010
Location: Niagara Region, Canada
Posts: 2,578
@Phoenixthebird...wow, you took the words out of my mouth...(well sort of) very well put!!

ps. i love blogging...now, but did do the journalling for many many years....
| | |
| --- | --- |
| The Following User Says Thank You to fourmaggie For This Useful Post: | |
Member
Join Date: Sep 2010
Posts: 28
Thanks for the support, everyone. My family just left so now I can look at this. I was unprepared for how hard this would be--I thought the worst would be xmas day or something like that, but no, it was when the family was in town.

Thank you for all your suggestions on how to get through this.

As much as I like my family, I feel better now that they're gone because I am back to what is now "normal" around here--me being alone.
| | |
| --- | --- |
| The Following 2 Users Say Thank You to phlegmatic For This Useful Post: | |
Currently Active Users Viewing this Thread: 1
(0 members and 1 guests)

Posting Rules
You may not post new threads
You may not post replies
You may not post attachments
You may not edit your posts
---
HTML code is Off
---