Newbie - Jaundice
Member
Join Date: Dec 2010
Posts: 7
Newbie - Jaundice
---
My partner is an alcoholic and has been trying to cut down his drinks over the last 3 months. We are both aware that this is extremely dangerous and he has refused to go to the local hospital / doctor to try and get some assistance. We live in a small town and privacy & services are an issue. At the moment it is impossible to get an appointment with a local GP - they are so overwhelmed they are refusing to take new patients. My partner really wants to quit but is embarrassed. He is suffering some detox symptoms, irritability, disturbed sleep and minor shakes and I am extremely concerned about him - he is only drinking to keep the DT symptoms at bay and is now down to 5 vodka based drinks a day.
My partner bruises badly easily, has jaundiced eyes & skin and has been losing weight. He has little red dots all over his body and his mouth sometimes bleeds. He often experiences stomach aches and swelling in his feet / ankles. We are currently investigating treatment centres in the US & Canada and would appreciate any recommendations.
Also, can anyone tell me what symptoms I need to be aware of re: DT- I will call an ambulance immediately if I have to. I'm desperate

Member
Join Date: Nov 2010
Posts: 2,047
Kelly, this is tough...
---
most of us are not doctors and we don't give medical advice. It is not that we don't care because we do. It's just that you are asking for medical advice about what sounds like a late stage alcoholic.

I would suggest that if you are even remotely rational you already know what you have to do. If so, do it. If not, then turn him over to your higher power and what will be will be.

Take care,

Cyranoak
| | |
| --- | --- |
| The Following 2 Users Say Thank You to Cyranoak For This Useful Post: | |
We can't give medical advice here, but I can say his symptoms sound alarming and I would seek medical att.Would he rather die or maybe see someone he knows?If he looks like you say and 5 vodka drinks is cutting way back..I'm guessing people already know he's an alcoholic, it's not as secret as we think.
| | |
| --- | --- |
| The Following 3 Users Say Thank You to keepinon For This Useful Post: | |
Member
Join Date: Dec 2010
Posts: 7
Hi there,

Sorry - I didn't really mean to ask for medical advice but I'm really scared. My partner doesn't want to become addicted to opiates (he has a business associate who became addicted after quitting drinking) - essentially he sees it as swapping one addiction for another. I'm going to get him to the local hospital, any idea on what we can expect ? Partner is terrified of hospitals (Mom was a nurse who had long battle with cancer)
| | |
| --- | --- |
| The Following User Says Thank You to KellyBelly For This Useful Post: | |
Becoming addicted to opiates isn't nearly as big a concern at this point as is the fact that it sounds like his liver has been severely damaged. When they turn yellow and retain fluids in their feet and ankles, it's a pretty good bet that he definitely needs medical attention. When my father died from cirrhosis of the liver, he was yellow and was very swollen. This isn't something to mess around with. Your friend needs medical attention as soon as possible.
You didn't do anything wrong by asking for help, Kelly. That's what this board is for. My guess is that you know down inside that something is horribly wrong and are possibly looking for someone to help you find a different angle on what you are afraid is the reality.

Your partner sounds very ill. If he had cancer and it was causing these symptoms, I'm sure you wouldn't hesitate to get him immediate medical attention.
| | |
| --- | --- |
| The Following User Says Thank You to vujade For This Useful Post: | |
| | |
| --- | --- |
| The Following User Says Thank You to wicked For This Useful Post: | |
same planet...different world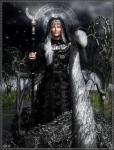 Join Date: Sep 2006
Location: Butte, America
Posts: 10,946
Hi Kelly

everything you're describing is emergency room stuff.

the fear of addiction to opiates,
when in the condition you are describing
just more irrational behavior at this point.

sane people won't refuse a transfusion
because they fear a needle.
Just doesn't happen.

isn't there some emergency room you can get to?

If you check the stickies above the alcoholism forum
there should be links
to something ANYTHING in your area...

I spent a good many years
living in remote parts of Montana...
and it was an ordeal to drive
an injured horse to the vet 70 miles away
or- on occasion
an injured horse TRAINER 80 miles
to the nearest hospital.

The local 'doctor' wasn't even an MD
just a nurse who'd taken classes
in order to perscribe stronger narcotic medicines.

Which is the case in a LOT of rural towns in Montana.

but there was always somewhere we could go, you know?

The closest alcoholics anonymous
may have some answers for you as well.

AA people
are some of the most 'connected' people
I've ever met.
| | |
| --- | --- |
| The Following User Says Thank You to barb dwyer For This Useful Post: | |
| | |
| --- | --- |
| The Following User Says Thank You to smacked For This Useful Post: | |
Currently Active Users Viewing this Thread: 1
(0 members and 1 guests)

Posting Rules
You may not post new threads
You may not post replies
You may not post attachments
You may not edit your posts
---
HTML code is Off
---