New and seeking advice
same planet...different world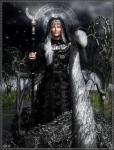 Join Date: Sep 2006
Location: Butte, America
Posts: 10,946
yep. anything small enough goes straight to a safety deposit box TODAY.
get the ball going now on the divorce

(whatever happened to abandonment)

oh well.

start separating the 'mine and thine' stuff
make sure your $$$ is safe and completely, untouchable yours
even if you have to cash every check and put it in the safety deposit box.

make sure the school knows he does not have permission to remove them from school.
you don't need a court order for that in most states.

whatever you can batten down - get to battening.

car in your name only.
insurance in your name only.
make sure you have both sets of keys.

sorry this is happening.

and if an order of protection is necessary the lawyer can tell you that.

if you have savings - USE it to get a real lawyer
and not a friend of a friend.
friends of friends as lawyers never work out.

be as secretive as a mouse
and as protective as a mama bear.

and we're here when you need to talk.

soon enough = you'll be in a loser free zone!


oh. and get a p.o.box.

it'll be a pain, but the mail is separate.

the leaving the state part sounds good because if he's broke he can't follow.
| | |
| --- | --- |
| The Following 2 Users Say Thank You to barb dwyer For This Useful Post: | |
Member
Join Date: Feb 2009
Posts: 2,059
a few more thoughts...

certainly, remove all alcohol from the house, as well as any prescription drugs.

make an "emergency exit" bag and keep it in your car. in it, have what you would need if you and the kids need to flee in a minute. i hope you don't need to use it, but i did and i was glad to have it.

you will need the p.o. box so that he can't get to your mail (with confidential banking nunbers, cc numbers, whatever) on it. yes, a hassle but worth it. mine intercepted my birthday cards and took the money out of them.

put combination locks on things. i started locking my shed and my bicycle, as he was always away with my tools and my bike, never to be seen again.

learn how to disable the car. for my car, i just needed to pull two fuses out housed with the battery to disable the car. pop them back in when i needed to drive, pull them out when i needed to leave the car with him about.

change your passwords on all accounts. change your pins. erase your browsing history on the internet or use mozilla firefox as your webbrowser and operate in privacy mode where no history is ever stored. add a startup password for your system.

do not leave your mobile phone lying about, it's easy to pawn or snoop into your business.

remove personal things, which might have no value, but are important to you, like photos and stuff. i would render a bet that he will become angry and might try to destroy things that you want, perhaps while drunk.

stop buying things he likes to eat. mine was a meat and potato's man. i switched to vegetables and fish. he liked black tea with milk. i stopped buying it. i stopped doing his laundry, did only mine. i made no issue of any of this, i just silently started.

don't underestimate an addict with no money. they will bleed you dry if you give them the opportunity.
| | |
| --- | --- |
| The Following 3 Users Say Thank You to naive For This Useful Post: | |
Member
Join Date: May 2008
Posts: 1,103
As hard as it is for adults to get their heads around addiction, and why the alcoholic claims to love us yet subject us to all manner of abuse and conflict through their drinking and won't quit for us, it's gotta be even harder on kids. I can't imagine.
BTW I have seen kids at al-anon meetings. The meetings i've gone to, they are welcome so long as they aren't disruptive.
Originally Posted by
BeProactive

Thank you CoffeeDrinker and SKW for the replies.
CoffeeDrinker - thank you for the input. Though AH has been an awful father (I can forgive the awful husband part but find it difficult to forgive the awful father part) - I know he loves his kids a lot. What you said is true - kids need both mom and dad. I have been very honest with them, they know dad drinks lot of alcohol and I told them it is a disease, but they are still confused why daddy cant quit even after their repeated requests. I hate what is does to the kids more than anything. My boys are 10yrs and 8yrs and I love them dearly and so wish that they had a good father

SKW - Thanks for your kind words and the best wishes. Wishing you lots of strength as well - I have gone thru many nights of crying my heart out and wondering why me. I guess it is what it is and need to deal with the reality and take steps to protect us precious little ones. Sorry to hear about your breakdown - Hope you are doing better now. Lots of best wishes to us in our new journey. I really appreciate you telling me that it is ok, take your time, thanks - made me feel better, thanks.
I spoke to the leasing manager again and he told me that if I write something down saying that AH left and we are separated - he can renew the lease in my name only. Don't really want to deal with a move now - I will be joining a new job next week.
Member
Join Date: May 2008
Posts: 1,103
I don't know what state you are in, but here in California it's ridiculously easy to get a restraining order. You can get an order based on "civil harrassment", at the very least. If he has sent you any emails, or written anything down, it's a lot easier. But if someone else has heard him making a ruckus or being violent, you could get their testimony.
Originally Posted by
BeProactive

update: I can't believe I am back in this hell again. It has been such peaceful 6 months and the kids and I have been having a wonderful, peaceful, fun time together. AH came back couple of days ago at 11pm in the night - banging on the door. I opened the door and told him he can stay only for the night and leave the next day (big mistake). He refused to leave the next day and I called the cops - showed them the lease in my name only. Apparently it is not enough (naive you were so right) - some of his property is still here, mail still coming in and we are still married. So, he is now back and we are back in the toxic enviroment. He is still drinking, smoking, not respecting boundaries, acting difficult, no job and I am scrambling to figure out what to do now. Thankfully the lease is expiring this month end - so have following options:

1) Move to another unit (to make him leave us alone) and start divorce process
2) Move out of state to be near my sister and get away from this
3) Restraining order (but no domestic violence issue). has anyone gotten restraining order based on emotional/mental abuse (heard this is difficult)

I am so tired and angry but one good thing is that I know that I definitely want a divorce now - no ambiguity. I can't believe AH is forcing me and the kids to live with him and am furious that am having to scramble around to figure things out while I am forced to support him. Kids are happy to see their dad but are worried about his drinking again. Hate, hate this situation.
Member
Join Date: Nov 2010
Location: bay area, ca
Posts: 87
Thanks naive for all pointers. I will make a list and get to it one at a time.

Sandra - Yes, I do live in california. My lawyer told me that it is easy to get restraining order if there is any physical abuse but otherwise it is difficuly, she said. She did not say anything about an order based on "civil harrassment". All the nieghbours here know about his alcoholism and have seen him in various stages of drunkness - so have lots of witnesses.

I am losing trust in this lawyer (she gave me wrong advice about the lease as well) and hence decided to look for another lawyer. I asked my friend for reccos (she knows a couple of friends that went thru divorce, even one with an alcoholic wife that got sole custody). I am also planning to get some financials stuff straightened out (I already separated our accounts a while ago). My sister also spoke to the county legal aide department yesterday, they gave her some good pointers - I will call them on monday as well (they are closed today). After talking to the legal aid dept and a couple of lawyers - I will decide on what to do (either move to NY or start Restraining order/divorce proceedings here).

He has not been violent - he can get verbally abusive some times but mostly a quiet/pathetic/annoying drunk.

thanks for all the input and advice!
Member
Join Date: Nov 2010
Location: bay area, ca
Posts: 87
He still gets some unemployment insurance. so uses that for getting his alcohol. I am not cooking for him and do not plan to do his laundry. He is not driving currently - he walks to the store to get his beer.
Currently Active Users Viewing this Thread: 1
(0 members and 1 guests)

Posting Rules
You may not post new threads
You may not post replies
You may not post attachments
You may not edit your posts
---
HTML code is Off
---