movers coming today-countdown begins!!
movers coming today-countdown begins!!
---
well, i'm as packed as i'm going to be and the movers are coming this morning to take my things. I am counting down the days and a week from tomorrow will be driving north to my new home away from my AH and all his drama and negative energy. I have such pity for him and i know that the distance and freedom is going to make me very happy. the idea already is! I know it will be hard but i'll have f2f alanon meetings to go to and will be so busy building my own network of support and a life of peace and happiness, that i think i'll be able to handle whatever life decides to send my way. I"ve taken care of things to the best of my ability and am looking for work from a distance, but i think i'll do much better once i land!! I can't wait to get out of these shackles and begin this journey. I am giving up my little haven in the country, but i know i've "served my time" and so it is okay. I"m headed to a small new england town that is very familiar to me and close to people that love and care about me. THAT is a great gift to look forward to! Onward and Upward to taking care of ME!!! you all are such inspiration and have helped me hold onto my reserve for the past couple months while trying to get things in order to leave!! i am feeling very proud of myself for following through and knowing i deserve better, even if it has taken me such a long time to figure out. I will no longer try to "fix" broken people.....my only job is to work on ME! that is enough to last the rest of my life-what a relief!!

The Following 15 Users Say Thank You to missphit For This Useful Post:

bookwyrm

(10-31-2010),

coyote21

(10-31-2010),

dollydo

(10-31-2010),

fourmaggie

(10-31-2010),

harleyd101

(10-31-2010),

HealingWillCome

(10-31-2010),

ItsmeAlice

(10-31-2010),

Learn2Live

(10-31-2010),

LexieCat

(10-31-2010),

LucyA

(10-31-2010),

naive

(10-31-2010),

Opivotal

(10-31-2010),

Pelican

(10-31-2010),

TatliGuzelim

(10-31-2010),

tjp613

(10-31-2010)
To thine own self be true.
Join Date: May 2009
Location: U.S.A.
Posts: 5,924

I am excited for you
missphit
! What an adventure! Dare to keep dreaming and imagining yourself doing the things you have always wanted to do. Every day remember the BEST you have done in life.
| | |
| --- | --- |
| The Following User Says Thank You to Learn2Live For This Useful Post: | |
| | |
| --- | --- |
| The Following User Says Thank You to TatliGuzelim For This Useful Post: | |
thank you soooo much! i am sitting here with tears in my eyes. tears of happiness and excitement and overwhelmed at the fact that i FINALLY feel important enough and valuable enough to make this change and how positive it feels, instead of like a loss!! I am even amazing myself at my attitude...I feel like i have woken up from a bad dream and have such clarity at the moment. I am so grateful that I have been able to follow through! Your support and inspiration means so much!!
I AM CANADIAN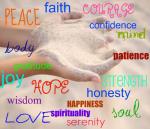 Join Date: Jun 2010
Location: Niagara Region, Canada
Posts: 2,578
you have courage and strength to do this....and i am so proud of you, as well as everyone here in SR, all of our friends...
recovery is so much fun *smiles from ear to ear*( I wouldnt want it any other way)
its time for you to grow....enjoy your new jounery...and god bless

thank you soooo much! the movers have come and gone and my things have gone with them. i am counting down and can't wait to be out of here and in my own space!! you all inspire and help me stay strong. those of you who have done this before me and those of you getting ready are really (though i know it is corny) the wind beneath MY wings and I am so grateful and excited!!! you guys have no idea how much I appreciate you all being here!! it is wonderful!! and i thank you from the bottom of my heart. I know the next week will be intense and i won't be able to stand not having the ability to check in while on my journey home, but will have my internet installed soon after i land next week. I just can't wait!!
| | |
| --- | --- |
| The Following User Says Thank You to missphit For This Useful Post: | |
Currently Active Users Viewing this Thread: 1
(0 members and 1 guests)

Posting Rules
You may not post new threads
You may not post replies
You may not post attachments
You may not edit your posts
---
HTML code is Off
---