Still hanging in...
Member
Join Date: Sep 2010
Posts: 17
Still hanging in...
---
It has been a month since my ex and I spoke. After the horrible things he said to me I sometimes feel as if I never want to speak with him again. On the other hand I wonder why I am not hearing from him...after reading numerous posts one thing that appears to be common is the ex begging to come back etc. Is mine in so much denial and blaming me that he is happier without me?? He has not tried to contact his sons either (20 and 23) it is like he has dropped off the face of the earth. After 30 years together I find this quite surprising. Mind you me not contacting him is surprising as well. I know I need to stop trying to figure him out but the last 3 months I have seen a side of him I didn't know existed. Why do I keep telling myself that is in a happier place...it's like I am trying to punish myself. But no contact does have its comforts. I no longer worry about his actions or how he will interfere with my day. I only hope that one day he will feel some pain or regret but I know by then it won't matter to me.
| | |
| --- | --- |
| The Following User Says Thank You to westbank For This Useful Post: | |
I AM CANADIAN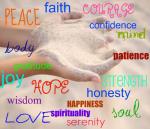 Join Date: Jun 2010
Location: Niagara Region, Canada
Posts: 2,578
the 3 C's

YOU did not cause this
YOU can not control this
YOU can not cure this....

this attitude starts with you...take care of YOU...go to AL ANON...and same for your children, take this time and reflect on YOU and pamper YOU....its well deserved.

LET GO AND LET GOD...and take this ONE DAY AT A TIME
To thine own self be true.
Join Date: May 2009
Location: U.S.A.
Posts: 5,924
"one thing that appears to be common is the ex begging to come back etc. Is mine in so much denial and blaming me that he is happier without me??"

IMO the best thing you can do is take the best care of yourself as you can. I have experienced both situations, where sometimes they just want to come back, and sometimes they do not care to and can be quite mean. Please know that it is NOTHING to do with you and is not a reflection of your worth. I have found it is best for me to look within for fulfillment of these needs and to look to my higher power.

You're doing great! Keep up the good work!! (((hugs)))
| | |
| --- | --- |
| The Following 3 Users Say Thank You to Learn2Live For This Useful Post: | |
Currently Active Users Viewing this Thread: 1
(0 members and 1 guests)

Posting Rules
You may not post new threads
You may not post replies
You may not post attachments
You may not edit your posts
---
HTML code is Off
---