Love
Wipe your paws elsewhere!
Join Date: Dec 2004
Posts: 3,672
Now you're asking a question that I can't even begin to answer. I'll have to think hard on this one and get back to you. Boy, you're really giving me a work out tonight.

In the meantime, I'll hand the question back to you. How do you define love?
Member
Join Date: Nov 2009
Posts: 545
Ok, a short bit before I take my leave.

I was very much affected by reading M Scott Peck's A Road Less Travelled and I shall transcribe some of his work tomorrow when I have more time.

In a nutshell: "The will to extend one's self for the purpose of nurturing one's own or another's spiritual growth."

But he didn't mean what someone with codependent goggles on might take it to mean. It's not in anyway sacrificial. Nor dependent. But it is an active verb, even from afar.

I will make more sense tomorrow. I promise.
| | |
| --- | --- |
| The Following User Says Thank You to Bolina For This Useful Post: | |
Occasional poor taste poster
Join Date: Jul 2005
Posts: 2,542
1) An evolutionary chemical reaction in your brain that skews judgement for the purpose of procreation, (subconscious level)

2) An advanced stage of a relationship between two people that causes them to care deeply for each others well being, in many case above their own, (conscious level).
| | |
| --- | --- |
| The Following 2 Users Say Thank You to Jazzman For This Useful Post: | |
The purest for of love, in my opinion, is agape.
Agape - Wikipedia, the free encyclopedia
I have found that once I detached, with love, from my husband that I was able to achieve a much healthier kind of love for him. We are both working on recovery at the moment, while separated.
I also firmly believe that person cannot give a healthy love to another unless they first love themself. Jesus said words to that effect somewhere.
Member
Join Date: Feb 2009
Location: littleton, Colorado
Posts: 146
Wow. Good question and I have been trying to define this all of my life! The definition of love for me-is different dependent upon the relationship. The love I have for my son is very different than the love I would have for a partner, boyfriend, lover, etc.

So...the beginning of a definition of "love" for someone in my life would have to be...the ability for both of us to fall backwards into each other on the worst of days and lifted up on the best of days. Exhibiting a healthy sense of giving (not to be confused with the co-dependent version: no mas) to the other...because I [I]want[I] to...
I have no clue. I have figured out that I truely never loved any of the men I was with. There were some other reason(s) I married them, society influenced me? Really don't know the answer.

Only know that I am done with the marriage thing.
| | |
| --- | --- |
| The Following 2 Users Say Thank You to dollydo For This Useful Post: | |
I like M. Scott Peck's definition. I read The Road Less Traveled as a teenager and the definition of love as a verb, as something you do and not something you feel, was a profound eye opener for me. After reading that I was able to look at my family with a much more discriminating eye about what constituted loving behavior and what didn't.
| | |
| --- | --- |
| The Following User Says Thank You to BuffaloGal For This Useful Post: | |
Member
Join Date: Jul 2010
Location: ft. lauderdale florida
Posts: 275
LOVE
There are so many different types of love. I don't believe I ever really knew the true meaning of love until I gave birth to my son. There is a quote I once read about being a Mom and I didn't understand fully until until I had my son.
"Being a mom is like having your heart walking around outside of your body"
So, you have no CONTROL, love is like being out of control. There is no rhyme or reason.
In Ememin new record spelt backwards love-evol. Now pronounce that one. E_V_O_L
That is some pretty on target deep stuff.
aw, love?????
What can one really say of such things?????
| | |
| --- | --- |
| The Following User Says Thank You to wow1323 For This Useful Post: | |
I AM CANADIAN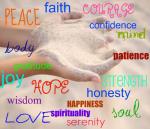 Join Date: Jun 2010
Location: Niagara Region, Canada
Posts: 2,578


funny that this should come up...this is how it was left with my dearest friend...he was not inlove with himself...and I truelly believe that if you can not love oneself, there is no room for anyone for that person to love...

THIS is how i met my beloved husband..
I also like M. Scott Peck's definition. For me, it means sincerely wanting what's best for the object of my love, even if that means letting them go.

In my family of origin, I learned that love was something you earned. It's taken a long time to unlearn that lesson. Love is selfless, and doesn't expect anything in return. In the height of my codependency, I would have sworn I was selfless and loving, but the real truth is I wanted a return on my "investment." How could he treat me that way "after all I had done for him?" That's not love.

L
| | |
| --- | --- |
| The Following 2 Users Say Thank You to LaTeeDa For This Useful Post: | |
| | |
| --- | --- |
| The Following User Says Thank You to Seren For This Useful Post: | |
Currently Active Users Viewing this Thread: 1
(0 members and 1 guests)

Posting Rules
You may not post new threads
You may not post replies
You may not post attachments
You may not edit your posts
---
HTML code is Off
---