Keep it simple al anon slogan
I AM CANADIAN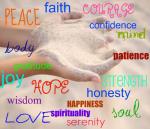 Keep it simple al anon slogan
---
AL ANON is a simple program. It provides us with the tools to work through our difficulties one day at a time. As we learn to accept our powerlessness and turn our lives and our will over to our Higher Power, we gradually break free from the negativity, hopelessness, and fragmented thinking that prevented us from living serene and harmonious lives. Al Anon works because it it simple best when we remember to keep it simple.
The daisy is a simple flower, yet its name means the eyes of God, suggesting that a simple and humbled spirit is open to God's healing guidance. When we simplify our lives, focus our attention on ourselves, and let go of the self-defeating complications, we make room for our Higher Power. However, a mind in turmoil, crackling with static and frantically searching for answers from within the chaos tends to distort the problem, opeing the door to "stinking thinking" and ultimately usurping the Higher Power's role.
Keeping it simple means we do not second guess the Higher Power' we let go of the what-ifs, the eleventh hour strategizing, the microscopic re-examination of our problems, and the magnification of our misery. It means we stay anchored in the uncluttered present, focused only on clarity, serenity and good orderly direction. As we detach from the confusion, our patience returns and we begin to see our situation through the eyes of our Higher Power.

The Following 12 Users Say Thank You to fourmaggie For This Useful Post:

Bernadette

(09-22-2010),

chicory

(11-22-2010),

coyote21

(09-22-2010),

DesertEyes

(09-22-2010),

fragrantrose

(09-25-2010),

Kassie2

(09-22-2010),

Learn2Live

(09-25-2010),

naive

(02-29-2012),

nodaybut2day

(09-22-2010),

PurpleWilder

(09-22-2010),

Redheadsusie

(09-22-2010),

theuncertainty

(09-22-2010)
Member
Join Date: Nov 2009
Posts: 545
Keeping it simple to me means not cluttering up my thoughts with "what ifs".

I can view various scenarios and make plans based on each, however if I try and second guess each and every one of them in the heat of the moment, I get into trouble.

Of course, I am usually third or fourth guessing, however I do try and keep this slogan in mind.
| | |
| --- | --- |
| The Following 2 Users Say Thank You to Bolina For This Useful Post: | |
Currently Active Users Viewing this Thread: 1
(0 members and 1 guests)

Posting Rules
You may not post new threads
You may not post replies
You may not post attachments
You may not edit your posts
---
HTML code is Off
---