Clarity? *poof*
Member
Join Date: Aug 2010
Posts: 15
Clarity? *poof*
---
Could you please share your story with me?

I thought I had it all figured out . I may be attempting the impossible but I want to be confident in my decision and I want to do what's best for my 15 year old daughter.

Today I told her that that I went to an Alanon meeting. I told her that it's for people who live with people who drink too much. She asked me why I went.
"Um, your dad. Do you think he drinks too much?"
"Yeah, but he doesn't get drunk or anything."
"How do you know?" (because he always drinks at night)
"That's true."
"You know how he keeps asking us the same thing over and over again?"
"Ha, yeah."
"That's from his drinking."
"Remember when he stopped drinking that one time? Well, he didn't really stop but he only drank on special occasions for a while."
"He stopped drinking because I asked him to. But he didn't really stop, he just started hiding it better."

Later she told me she knew I was doing something that day because when she asked me where I was going I avoided answering her. I told her I wasn't sure I wanted to talk to her about it then because it was kindof an adult thing but really, she's mature enough and it involves her, too. She said she doesn't really think it's a problem, that it doesn't bother her.
"What about when dad's mean?"
"Well, it's just dad being dad and telling me to do stuff. I had a good childhood. Well, I still have a good childhood 'cause I'm still a kid but… We had enough money and opportunities and stuff."

So now I wonder – am I over reacting? Am I just trying to justify leaving so I can be "free"? Am I trying to convince myself that it's bad for her so that I won't feel so guilty?

I posted this on the Adult Children board but would love to hear your stories, too, especially if you lived with a highly functioning alcoholic. Did you stay together or did you divorce? How were your kids? Do you think you made the right choice? Do they?

Thank you SO much.
I don't know, because my kids were born after their dad got sober.

FWIW, not every child suffers greatly from living with an alcoholic parent. I'd say every kid is better off with a sober parent than an alcoholic one, all other things being equal, but it doesn't necessarily scar them for life.

You are the one married to him, though. How does living with an alcoholic affect YOU? Your own feelings about it are valid to take into consideration.

Al-Anon can help you sort out your feelings about staying or leaving in terms of what's best for your particular situation.
| | |
| --- | --- |
| The Following User Says Thank You to LexieCat For This Useful Post: | |
What I read from your post was that your child thinks that her life is what's 'normal'. What other yardstick does she have to measure life with? She was born into this situation and grew up in it. An A dad is normal. Its a little heartbreaking for you both.

Guest
Join Date: Feb 2010
Posts: 13
Well, I lived with a functional alcoholic, our baby girl and his teenage son. When I started going to Al-Anon, my XH's son, my DSS (dear stepson) asked me some questions about it. At first, he really didn't seem to think that there was a problem with the drinking. When he asked me more questions though, we talked about XH's abusive and unfair tendencies when he drank, and that's when it really hit home. DSS had a LOT to say about that. He never did come to an Al-Anon meeting. He did however join the chatrooms and talked a lot to some of the members there, under my supervision. His understanding of alcoholism was rather limited and there was a part of him that defended his dad, but I knew he felt better about having people to talk to about the things that did bother him.

Later on, after I left, DSS was left alone with his father, without me to act as a buffer. I guess things go bad enough to that DSS decided to move out and go back to live with his mother, so there must have been LOTS that bothered him.

So, regarding your daughter's impression of your husband's drinking, it may be that *right now* she thinks it's all ok. That may well change in the future. Had I not intervened with DSS and asked him some rather direct questions about his father's drinking, he would have grown up thinking that it was all normal.

IMO keep the lines of communication open with your daughter. If she ever needs to talk to you about your AH's drinking, she'll know your door is always open...
| | |
| --- | --- |
| The Following 2 Users Say Thank You to NoDaybutoday For This Useful Post: | |
I agree with bookwyrm. Your D only knows this life and for her that is normal.

I felt the same way growing up with my AF, and aslo I had some very similar conversations with my 12 yo D when I decided to leave my, now recovering, AH.
Of course your D knows something is wrong, but she thinks that's not a big deal, as she doesn't know better, and aslo it's been like that forever and you all survived so it can not be that bad. My D even told me: why are you making such a big deal out of it, he is just being dad, and BTW everyone lives like this!!!
When talking some more to her I discovered she is not even angry with him, after all he was just being himself, but with me because I was the one that keeps agruing and making a big deal of it all.
All of that was pretty much a slap in my face, and I realized it is my job to teach my kids what "normal" is, or better to say to show them different, healthy kind of normal. So I did. In the meantime AH became RAH, and moved in back with us, and my kids are larning a new normal in thier life. All of this is happening only recently, but I can already see a great change in them, as they're learining for the first time in their life what a proper role of someone's father is.
If he didn't start recovery than our kids still couldn't learn about what the real dad is all about, but by me removing them from that kind of life, they could still learn what is unacceptable.
IMO the biggest problem for kids growing up in alcoholic enviroment is the fact they never learn what normal really is, they only learn twisted dysfunctional patterns.

IMO you can expect your 15 yo to know that removing an active A from her life is a good thing, it is your job to teach her that by example.

Once I got strong and healthy my kids started to bounce back, once their dad started to work on his recovery, it made the things even easier for them, but again even if he didn't do that I'd have to do it myself, it would be harder but not impossible.

The first thing I needed to do is teach my kids to trust me, as to be honest before they had no reason to, as all I was teaching them (by example, and BTW that's the way kids learn) is misery.

Also, I strongly suggest you read on ACOA forum and not take any of it lightly. It doesn't take an abusive A, functioning one is enough too (as mine AF was) to leave kids scared for life.

And, you D doens't have to agree with you right now (she most probably will not no matter how hard you try to explain it), but if you stay strong and positive, she'll learn soon enough. It's simple: you're the parent, you know better ( it took me an awful long time to realize this).

I believe you're going in the right direction,
I wish you well
HUGS

PS Of course all of this is just my opinion, so you take what you like and leave the rest.
| | |
| --- | --- |
| The Following User Says Thank You to sesh For This Useful Post: | |
Jessi, I'm an adult child and I'm only just learning in my 30s what healthy actually looks like. One of my parents has a serious alcohol abuse problem that just wasn't discussed openly - I mean ever. It was "normal" to see an adult start drinking after work and pass out by 9pm. There was a lot of frustration - and it played out in a number of seriously unhealthy family dynamics. There was no violence but in every respect we were an alcoholic home and nobody talked about the elephant in the room.

I started to talk about it with my family in my 20s and I got the deep freeze from my siblings. Even now, it's an extremely touchy subject and it's only now that I'm in alanon that I'm getting a full picture of how it has affected me and my choices as an adult.

I think you are amazing for wanting better for both your child and -yourself-. I agree with everyone who has said that if it's all you know, anything can seem "normal."

Hugs,

SL.
To thine own self be true.
Join Date: May 2009
Location: U.S.A.
Posts: 5,924
For me, the question in all this is... So, you made such a huge life decision to leave your AH and start a new life without him, and one, five-minute conversation with your teenage daughter made you doubt your own perceptions, judgments, and motivations, your own self?

Do you doubt that your spouse is an alcoholic? Do you feel guilty that perhaps you are going to hurt your family members?
| | |
| --- | --- |
| The Following User Says Thank You to Learn2Live For This Useful Post: | |
I AM CANADIAN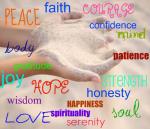 Join Date: Jun 2010
Location: Niagara Region, Canada
Posts: 2,578
hummm normal...thats all she knows...I say get her into AL A TEEN, no harm in that...and go for 6 meetings...she may see different (perhaps) I remember at her age..I was so stubborn and did not WANT change or NEED change...its not YOUR fault or hers...
ooh ya...no one needs to know UNLESS she tells them about the meetings..that is the best part...
plz keep going to AL ANON...it works if you work it....

maybe too at 15 she's mature enough to see that there is a problem and she's trying her best to smooth it over and minimise it for you, or doesn't want to be seen to be 'taking sides' with one parent against the other.
| | |
| --- | --- |
| The Following 2 Users Say Thank You to LucyA For This Useful Post: | |
Member
Join Date: Aug 2010
Posts: 15
I was replaying the conversations in my head last night and remembered at one point my daughter saying "That's why I'm not going to drink. Ever." So I know that she knows it's a problem, she just doesn't think it's a horrible problem. And really, It's taken me 20 years to get to this point, she hasn't even been alive that long. And I know that she's a people pleaser and yes, would want to protect her dad, and me if she could. We talked a little bit about things today, mostly just relating some similarities between our family and my aunt and uncle who have kids the same age as mine. I'm just trying to keep things casual and open the door for her to talk if she wants but not force it. I haven't mentioned divorce, just that I was going to Alanon and could take her to Alateen if she wants.

And no, I haven't let one conversation change my mind but I am being very careful and thorough in making this decision. I am 90% certain I will be giving my husband an ultimatum soon but I want to answer the questions and doubts I have right now so that I can go into it with a clear conscience and with confidence. I can hold my ground all day if I know I'm right but if there's any doubt I'll start to feel guilty and change my mind. So, I need to be confident that I am doing what is right for my daughter. I know the pain of divorce, I don't know the pain of growing up with a mean, alcoholic father. I want to choose the lesser of 2 evils and I haven't been sure what that was.

I was reading a book today (Helping Your Kids Cope with Divorce the Sandcastles Way by M. Gary Neuman) and he said:

" If we are raised by people who value us, who show us that we are lovable and loved, who make it possible for us to feel happiness, trust, accomplishment, and pride in ourselves, we will regard this as normal and right. We will feel comfortable being loved and valued; we will seek out situations that give us opportunity for growth and mastery. We will believe we deserve happiness, and we will demand happiness from our lives.

If, on the other hand, we are raised by people who neglect us, who show us that we are not lovable and not loved, we will be set upon the trail of life with a faulty compass. Our emotional "true north" will not be north at all. if we have had limited experiences with happiness, trust, accomplishment, few opportunities to feel proud of ourselves, we will view these as normal. When given the chance to be loved, valued, accomplished and happy, we may reflexively reject the opportunity because it doesn't feel "right". While we ultimately may seek and find success in love and work, it will require a great deal of awareness and determination.

For better or worse, children usually grow up seeking people and situations that reinforce and restate the basic premises they grew up with. Those raised to feel deserving of happiness will seek it out throughout life. Those raised to feel undeserving will be drawn to experiences and people who ensure they stay "on course." "

I still have some thinking to do but I'm getting there. Thanks for sharing your thoughts. It really does help.
| | |
| --- | --- |
| The Following 3 Users Say Thank You to JessiJoy For This Useful Post: | |
So, I need to be confident that I am doing what is right for my daughter. I know the pain of divorce, I don't know the pain of growing up with a mean, alcoholic father. I want to choose the lesser of 2 evils and I haven't been sure what that was.
I struggled before my divorce with all the fear of how I would destroy my kids lives etc. I had to come to the decision that what was best for my mental health and my sanity was the best decision, and that my children would cope based on how I handled the emotional hardships.
I mean, I can't control
how
it will affect them. But I can provide a good example of healthy living and problem-solving. I can provide open lines of communication and support. And I can allow them their own process and the dignity to handle their life and their hardships for themselves.
I really admire the way you have opened up to your daughter and allowed her to have her own response, without arguing with her or denying her experience.
I grew up with an alcoholic father, and all that entails, and when I was your daughter's age and I said something directly to my mother about my dad's drinking she slapped me right across the face!
Your daughter has probably already learned all that I did in my alcoholic family (denial, deception, people-pleasing, walking on eggshells etc). It does not mean that she has not also learned great things, and good things! It does not mean she is diminished in any way. My mom is still a great denier of reality, but through my own experiences and through seeking help once I was in my twenties I have been able to free myself of my bad habits of mind.
It has taken an A father (who eventually recovered), 3 A brothers, a bad marriage, a good divorce, AlAnon and therapy to get me to a better place but that's just life, and I am grateful for all the lessons I've had to learn. Once I finally walked into AlAnon I do remember thinking , wow, I wish I had heard/read some of this when I was a teenager!
In my opinion: By being open and non-judgmental w/ your daughter you are teaching her so much that is good. By getting help for yourself through AlAnon you are setting a good example. And by making your decisions based on your own health and sanity you will also be teaching her something good!
Good luck - Peace-
B
Currently Active Users Viewing this Thread: 1
(0 members and 1 guests)

Posting Rules
You may not post new threads
You may not post replies
You may not post attachments
You may not edit your posts
---
HTML code is Off
---