Does he really believe what he says??
Member
Join Date: Jun 2009
Posts: 347
Does he really believe what he says??
---
Tonight, I had asked my AH to fix dinner because I was working late, and I knew I would be tired. Well....he didn't....and I can live with that. So when I got home I wanted to go take a moment to breath - I'm a teacher and have children at home - and just needed a few to be me! So he and I went to a local bar. Now, I probally should have put my foot down here.....but I almost don't care anymore. I like some of hte people we know from there and enjoy the company. Anyway, I drank my diet Coke and had a good time while he had 2 beers. OK 2 beers - doesn't seem like a big deal right? So I am ready to go about 45min after we arrived, and asked him, he said to come back later and get him and he had an excuse to stay...and I didn't feel like arguing although I knew this was a horrible idea. He is a MEAN drunk. Since I gave him an ultimatum in July, he had really cut back, but not quit. As I have posted before, it seemed to be getting better. Anyway, so I don't know how many more beers or whatever he drank, but it was APPARENT that is was to much. When he was ready for me to pick him up about 1 1/2 hours later, he had obviously had more than enough. I had made the dinner (that he said he would) for the kids, and I did not make him a plate - not out of spite because I usually do that even if I'm mad - but he was staying at the bar and had mentioned eating, so I figured he would. Anyway, he was raving mad that I didn't leave him a plate...I tried to explain I thought he was eating there, but of course he didn't listern and I'm not sure why I tried. So like someone who didn't know better I asked how much he'd had and that sent him over the edge!! Here is what I am completely floored by - is this just denial or does he really believe this. If you ask him if he drinks he would tell you "not anymore - it's been years", ok well, he drinks at least 4 times a week - not in the house I don't allow that - but out. He believe that when he oinly drinks 5-6 beers that is not drinkng and has no affect - but let me tell you now that he has cut back it does! He actually came home the other night and had obviously had hard liquor - a whole different beast. He is mean and horrible when he drinks, and I HATE him when he does this.......does he believe what he says about not drinking??? Is all just a game to him??? I am so close to done with all of this, but the situation is very very complicated.......
Member
Join Date: Jul 2007
Posts: 1,175
same story, here...
The game of diminishing the amount and severity of his consumption is an endless and mind numbing game.
Being sober does not matter. When he is sober he lies, too. It is never like, Oh, yeah, when I was drunk I said four, but I meant seven...

I think it is shame. I think it keeps them thinking they are not out of control.

They ares aying what they ultimately wish was true.
IME, boundaries are a lot more effective, it's all about you, right?
A boundary protects you, and leaves the other free to do as they please.
Pretty sure there are some stickies on the subject here.
The rest, well, you're dealing with someone that most of us would regard as at least a little
insane
.
How do you expect him to behave?
Member
Join Date: Nov 2009
Location: Tennessee
Posts: 31
still learning my way around here
Would love to understand more about this setting boundaries...

Member
Join Date: Nov 2009
Posts: 63
I think they do believe what they say when they say it, even if what they say is inconsistant, unreasonable and/or just plain crazy. I also believe they make things up a lot of the time. Like someone with memory loss who fills in the gaps with whatever makes sense to them in the moment. I also think they lie because it feels more comfortable to them than telling the truth.
Member
Join Date: Feb 2009
Posts: 2,059
hi mentally exhausted-

why on earth would you take an alcoholic to a bar?

why would you come back and pick him up after working all day and also making dinner?

why would you be surprised he is unreasonable about his plate of food after he's been drinking for 2.5 hours?

i do understand that you had had a tiring day and wanted to unwind at your local with your husband. that's normal. but a relationship with an alcoholic is not normal and by the sound of it, you set yourself in this particular case.
If you ask him if he drinks he would tell you "not anymore - it's been years", ok well, he drinks at least 4 times a week - not in the house I don't allow that - but out.
Ha ha! Trying to make sense of an alcoholic isn't a healthy thing to do. They are insane, that's all you need to know.
Member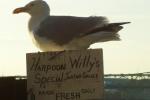 Join Date: Nov 2009
Location: carolina girl
Posts: 578
I know where you are coming from. Sometimes you convince yourself that it's easier to go with the flow, and do what they want you to do. I was like this when I was living with and taking care of my AF after my mom died. The enabling gets out of control, and we find ourselves doing _ridiculous_ things just to keep the peace, because we convince ourselves that if we just do these things that they want, or things to make their lives easier/better, it will give the A reason to maybe do something for us. Like if I drove my dad to the bar and had a few beers with him, we would bond or something, he wouldn't look at me as the "downer who bugs me about my drinking", but maybe a friend that was worth listening to. Pretty ridiculous, I see that now. The forums on enabling and co-dependence are priceless, I re-read them over and over and over when ever I am faltering a bit in my confidence.

Good luck, and hang in there. There's so much guidance and love on here, soak it in!
Member
Join Date: Oct 2009
Location: east siiiide
Posts: 254
Bucyn-- great post. I see my H in allll of those. I have been so amazed at the extent to which he has lied about so many things. Above all is that if I did not physically see it occur, he can still deny it. Even if there is NO OTHER possible explanation.
And, we cannot possibly plan for bad things that might happen, because there is no PROOF that they will happen, so therefore they won't. Until it does happen, and then I'm sure there's a very 'good' explanation for it, that doesn't involve it being his fault.

It's hard on me.. my mother HATED it when I lied to her. I lied when I was a teenager and wanted to get away with things. If they couldn't prove it then I figured I'd get less of a punishment. I *KNOW* why my AH lies, it's to protect his ability to do what he wants and not suffer any consequences. The thing is.. I grew up. I want to live a mature life. I'm not his mother, and he's constantly telling me to stop 'mothering' him. Well, stop 'babying' yourself.

Thanks for the reminders.
Hi mentally,

As LTD says...

The situation is not complicated, in fact it is very easy. Without wishful thinking. This is as good as it gets. When you are done you are done. Hope it does not take much more precious days of yours on this planet...

You cannot change him, control him, or cure him.

And you deserve joy and peace, I send you good vibes ((mentally))
Currently Active Users Viewing this Thread: 1
(0 members and 1 guests)

Posting Rules
You may not post new threads
You may not post replies
You may not post attachments
You may not edit your posts
---
HTML code is Off
---