Member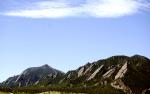 Join Date: Nov 2012
Location: Colorado
Posts: 2,940
Daily Readings for Thursday July, 12th!!
---
HJuly 12

Daily Reflections

GIVING UP CENTER STAGE, p.202

For without some degree of humility, no alcoholic can stay sober at all.
. . Without it, they cannot live to much useful purpose, or, in
adversity, be able to summon the faith that can meet any emergency.
12 & 12, p.70

Why do I balk at the word "humility"? I am not humbling myself
toward other people, but toward God, as I understand Him.
Humbly means "to show submissive," and by being humble I
realize I am not the center of the universe. When I was drinking, I
was consumed by pride and self-centeredness. I felt the entire world
revolved around me, that I was master of my destiny. Humility
enables me to depend more on God to help me overcome obstacles, to
help me with my own imperfections, so that I may grow spiritually. I
must solve more difficult problems to increase my proficiency and, as
I encounter life's stumbling blocks, I must learn to overcome them
through God's help. Daily communion with God demonstrates my
humility and provides me with the realization that an entity more
powerful than I is willing to help me if I cease trying to play God
myself.

************************************************** *********

Twenty-Four Hours A Day

A.A. Thought For The Day

Today is ours. Let us live today as we believe God wants us to
live. Each day will have a new pattern which we cannot foresee.
But we can open each day with a quiet period in which we say a little
prayer, asking God to help us through the day. Personal contact with
God, as we understand Him, will from day to day bring us nearer
to an understanding of His will for us. At the close of the day, we
offer Him thanks for another day of sobriety. A full, constructive
day has been lived and we are grateful. Am I asking God each day
for strength and thanking Him each night?

Meditation For The Day

If you believe that God's grace has saved you, then you must believe
that He is meaning to save you yet more and keep you in the way that
you should go. Even human rescuers would not save you from
drowning only to place you in other deep and dangerous waters.
Rather, they would place you on dry land, there to restore you.
God, who is your rescuer, would certainly do this and even more.
God will complete the task He sets out to do. He will not throw you
overboard, if you are depending on Him.

Prayer For The Day

I pray that I may trust God to keep me in the way. I pray that I may
rely on Him not to let me go.

************************************************** *********

As Bill Sees It

The Spiritual Alibi, p. 193

Our first attempts at inventories are apt to prove very unrealistic. I
used to be a champ at unrealistic self-appraisal. On certain occasions,
I wanted to look only at the part of my life which seemed good. Then I
would greatly exaggerate whatever virtues I supposed I had attained.
Next I would congratulate myself on the grand job I was doing in A.A.

Naturally this generated a terrible hankering for still more
"accomplishments," and still more approval. I was falling straight
back into the pattern of my drinking days. Here were the same old
goals--power, fame, and applause. Besides, I had the best alibi
known--the spiritual alibi. The fact that I really did have a spiritual
objective made this utter nonsense seem perfectly right.

Grapevine, June 1961

************************************************** *********

Walk In Dry Places

Pats on the back
Self-esteem
Recovery from a compulsive illness such as alcohoism often brings "pats on the back." This praise is a welcome change from the criticism our problems once raised.
We should accept such pats on the back graciously, but without taking the personal credit this sort of praise implies. We can become addicted to praise seeking, and we may even invite it as a way of building up self-esteem.
Moreover, much of our challenge is still ahead of us. The real victory may be in learning how to live after we've established our initial freedom. We learn that all human beings must face issues such as boredom and pain, which we tried to avoid with our drinking. We may get few pats on the back for our success in this everyday living, but our healthier lifestyle is reward enough.
If I receive praise today, I'll acknowledge it graciously, knowing that such praise is not necessary for my well-being.

************************************************** *********

Keep It Simple

Just because everything is different doesn't mean anything has changed.---Irene Peter
Our life changed a lot when we stopped drinking and using other drugs. But this is only a start. We need to go further.
Our old attitudes can kill us, even if we aren't drinking or drugging any more. This is called a "dry drunk." If we're on a dry drunk, we've changed the way we act without changing the way we think.
Our program shows us how to change the way we think. And we change how we treat ourselves and others. We learn to live a new life based on love and care.
Prayer for the Day: Higher Power, help me guard against my old attitudes. Help me keep changing.
Action for the Day: I'll list four ways I've changed because I'm sober. I'll list four ways I haven't changed yet.

************************************************** *********

Each Day a New Beginning

... those interested in perpetuating present conditions are always in tears about the marvelous past that is about to disappear, without having so much as a smile for the young future. --Simone de Beauvoir
Hanging on to any moment, once it's gone, deadens us to the joys and lessons of the present. We must learn to let go, to let go of persons, painful situations, and even meaningful experiences. Life goes on, and the most fruitful lesson before us is to move with the vibrations, be in tune with them.
Being open to the present is our only chance for growth. These experiences today in our lives beckon us forward along the path meant for us. We are not guaranteed only joy today. But we are promised security. We may not be free of twinges of fear or confusion, but we can learn to trust even in the midst of adversity. We can remember that power greater than ourselves whenever and wherever our steps are uncertain.
Dwelling, as we are wont to do, on our rebuffs, our rejections, invites further criticism. But neither should we dwell on past joys. Attention to now and to the persons here, now, is the only rightful response to life. Not being here, now, invites others to turn away, just as we have turned away.
I will celebrate the thrill of the present, squeeze the moments of today, and trust the outcome to God.

************************************************** *********

Alcoholics Anonymous - Fourth Edition

Chapter 8 - TO WIVES

There was never financial security. Positions were always in jeopardy or gone. An armored car could not have brought the pay envelopes home. The checking account melted like snow in June.
Sometimes there were other women. How heartbreaking was this discovery; how cruel to be told they understood our men as we did not!

pp. 105-106

************************************************** *********

Alcoholics Anonymous - Fourth Edition Stories

The Housewife Who Drank At Home

She hid her bottles in clothes hampers and dresser drawers. In A.A., she discovered she had lost nothing and had found everything.

I never knew which came first, the thinking or the drinking. If I could only stop thinking, I wouldn't drink. If I could only stop drinking, maybe I wouldn't think. But they were all mixed up together, and I was all mixed up inside. And yet I had to have that drink. You know the deteriorating effects, the disintegrating effects, of chronic wine-drinking. I cared nothing about my personal appearance. I didn't care what I looked like; I didn't care what I did. To me, taking a bath was just being in a place with a bottle where I could drink in privacy. I had to have ti with me at night, in case I woke up and needed that drink.

p. 297

************************************************** *********

Twelve Steps and Twelve Traditions

Step Two - "Came to believe that a Power greater than ourselves could restore us to sanity."

Sometimes A.A. comes harder to those who have lost or rejected faith than to those who never had any faith at all, for they think they have tried faith and found it wanting. They have tried the way of faith and the way of no faith. Since both ways have proved bitterly disappointing, they have concluded there is no place whatever for them to go. The roadblocks of indifference, fancied self-sufficiency, prejudice, and defiance often prove more solid and formidable for these people than any erected by the unconvinced agnostic or even the militant atheist. Religion says the existence of God can be proved; the agnostic says it can't be proved; and the atheist claims proof of the nonexistence of God. Obviously, the dilemma of the wanderer from faith is that of profound confusion. He thinks himself lost to the comfort of any
conviction at all. He cannot attain in even a small degree the assurance of the believer, the agnostic, or the atheist. He is the bewildered one.

p. 28

************************************************** *********

"It is a rough road that leads to the heights of greatness."
--Seneca

"If one asks for success and prepares for failure, he will get the
situation he has prepared for."
--Florence Shinn

Blessed are they that have not seen and yet have believed.
--American Proverb

Faith is a knowledge within the heart, beyond the reach of proof.
--Kahil Gibran

"When we surrender to God, we let go of our attachment to how
things happen on the outside, and we become more concerned with
what happens on the inside."
--Marianne Williamson

Change your thoughts and you change your world.
--Vincent Norman Peale

************************************************** *********

Father Leo's Daily Meditation

VIOLENCE

"Violence is counter-productive
and produces changes of a sort
you don't want. It is a very
dangerous instrument and can
destroy those who wield it."
--John Gardner

I believed I wasn't violent when I drank but that is not true; I
wasn't physically violent but I used emotional and mental violence. I
did not hit, fight or mutilate people with my hands, but I could tear a
person apart with my tongue. My sarcasm and criticism made people
cry, feel demoralized and useless. Violence always removes the
"dignity" from man -- and I did this with my mouth!

Today I try to practice tolerance and patience, I count to ten, and
when I do lose my temper and hurt a person unfairly or unnecessarily,
I apologize. In my sobriety the anger, hate and need to hurt is
slowly going. I am progressively getting better a day at a time.

Teacher, let me offer the hand of peace, not the fist of violence.

************************************************** *********

"For by grace you have been saved through faith; and this is not your own doing, it is the gift of God."
Ephesians 2:8

Be on the alert, stand firm in the faith.
1 Corinthians 16:13

"Then Jesus told his disciples a parable to show them that they should
always pray and not give up..."
Luke 18:1

"Do not get drunk on wine, which leads to debauchery. Instead, be
filled with the Spirit."
Ephesians 5:18

"My soul is weary with sorrow; strengthen me according to your
word."
Psalm 119:28

"Turn my eyes away from worthless things; preserve my life
according to your word."
Psalm 119:37

************************************************** *********

Daily Inspiration

Turn to God's love when you become doubtful or discouraged. Lord, Your love for me is so great that with this knowledge I am able to face my biggest challenges without stress.

Never forget that home is Heaven and life on earth is only temporary. Lord, may I live with deep awareness of my spiritual nature and live a life of truth.

************************************************** *********

NA Just For Today

Patience

"We were trapped by our need for the instant gratification that drugs gave us."
Basic Text, pp.24-25

"I want what I want, and I want it now!" That's about as patient as most of us ever got in our active addiction. The obsession and compulsion of our disease gave us a "one-track" way of thinking; when we wanted something, that's all we thought about. And the drugs we took taught us that instant gratification was never more than a dose away. It's no wonder that most of us came to Narcotics Anonymous with next to no patience.

The problem is, we can't always get what we want whenever we want it. Some of our wishes are pure fantasy; if we think about it, we'll realize we have no reason to believe those wishes will be fulfilled in our lifetimes. We probably can't even fulfill all our realistic desires; we certainly can't fulfill them all at once. In order to acquire or achieve some things, we will have to sacrifice others.

In our addiction we sought instant gratification, squandering our resources. In recovery we must learn to prioritize, sometimes denying the gratification of some desires in order to fulfill more important long-term goals. To do so requires patience. To find that patience, we practice our program of recovery, seeking the kind of full-bodied spiritual awakening that will allow us to live and enjoy life on life's terms.

Just for today: Higher Power, help me discover what's most important in my life. Help me learn patience, so that I can devote my resources to the important things.
pg. 202

************************************************** *********

You are reading from the book Today's Gift.
We love the things we love for what they are. --Robert Frost
Once there was a little girl who had a stuffed frog named Jeremy. Jeremy went everywhere with the girl--to imaginary picnics with her other dolls, to school, on trips, and, once, even into the bathtub! Every night, Jeremy slept cradled in her arms.
Over time, Jeremy grew old and tattered. He had lost an eye, and he limped because the girl used to use one of his legs as a handle, and it had gotten crushed. His nose was a little mangled too, from being dragged on the ground.
But the girl loved that frog, no matter how bedraggled he looked. And he never did anything. He was just always there. He was just Jeremy, and she loved him for that.
Today, that girl is a young woman and has outgrown childish things. But in her bedroom, you'll still find Jeremy, tattered and repaired, asleep on her bed. She still loves him dearly, for what he is.
Who do I love, and why?


You are reading from the book Touchstones.
If you keep on saying things are going to be bad, you have a good chance of being a prophet. --Isaac Bashevis Singer
Many of us have the habit of taking a negative outlook on whatever comes along. We don't believe things will work out for us; we don't think we will have a good day; we can't accept our friends' warm feelings. To follow this gloomy path is a strange distortion of faith - it is faith in the negative. Any forecast, whether hopeful or pessimistic, is a step into the unknown. So why do we choose the dark one?
We get a payoff for our pessimism, which keeps us hooked. It creates misery, but serves our demand for control. There is more risk in being open to something positive because we cannot force positive things to occur. We can only be open to them and believe in the possibility. But when we predict the negative and expect only bad things, we squelch many good things or overlook them. Then we say, "I knew it would be this way," and in our misery we satisfy our self-centered craving to be in charge. When we surrender our need to be in control, we are more open and welcoming of the good things that come our way.
Today. I will be open to the good that is around me.


You are reading from the book Each Day a New Beginning.
... those interested in perpetuating present conditions are always in tears about the marvelous past that is about to disappear, without having so much as a smile for the young future. --Simone de Beauvoir
Hanging on to any moment, once it's gone, deadens us to the joys and lessons of the present. We must learn to let go, to let go of persons, painful situations, and even meaningful experiences. Life goes on, and the most fruitful lesson before us is to move with the vibrations, be in tune with them.
Being open to the present is our only chance for growth. These experiences today in our lives beckon us forward along the path meant for us. We are not guaranteed only joy today. But we are promised security. We may not be free of twinges of fear or confusion, but we can learn to trust even in the midst of adversity. We can remember that power greater than ourselves whenever and wherever our steps are uncertain.
Dwelling, as we are wont to do, on our rebuffs, our rejections, invites further criticism. But neither should we dwell on past joys. Attention to now and to the persons here, now, is the only rightful response to life. Not being here, now, invites others to turn away, just as we have turned away.
I will celebrate the thrill of the present, squeeze the moments of today, and trust the outcome to God.


You are reading from the book The Language of Letting Go.
Letting Go of Fear of Abandonment
"Where are you, God? Where did you go?"
So many people have gone away. We may have felt so alone so much. In the midst of our struggles and lessons, we may wonder if God has gone away too.
There are wondrous days when we feel God's protection and presence, leading and guiding each step and event. There are gray, dry days of spiritual barrenness when we wonder if anything in our life is guided or planned. Wondering if God knows or cares.
Seek quiet times on the gray days. Force discipline and obedience until the answer comes, because it will.
"I have not gone away child. I am here, always. Rest in me, in confidence. All in your life is being guided and planned, each detail. I know, and I care. Things are being worked out as quickly as possible for your highest good. Trust and be grateful. I am right here. Soon you will see, and know."
Today, I will remember that God has not abandoned me. I can trust that God is leading, guiding, directing, and planning in love each detail of my life.


I am at choice today. I accept responsibility of my life with a new sense of maturity, confidence and even excitement. --Ruth Fishel

**************************************************

Journey To The Heart

Let the Universe Lead the Way

Feel and see how the life force, the heartbeat of the universe, leads you on, guides you, takes you on the way. Yes, there are times when we need to march forward, muster up our willpower, and grind through the motions. But those times are transitory. And that's not the magical way we're living now. Even when we stop, doubt, wonder, get tired and confused, the universe is there to revitalize us, move us along our path and lead the way.

If you're tired, rest. If you're sad,cry. If you're thirsty, take a long cold drink of water. If you feel hopeless, feel that. But know it's just for the moment. If you feel confused, feel that. Feel it until clarity, desire, hope, and meaning break through. You don't have to trudge through on willpower, not any longer. You do not have to push your way through.

Rest until you feel healed, then gently go forward. Let the universe assist you. Open your eyes, the eyes of your soul, and see where to go. Feel where to go. Sense what to do next. See how the magical power of the universe carries you along, even when you get tired, even when you get confused. You are connected– to yourself, to the universal force, to God.

Quiet the chatter of your mind. Renew your body. Replenish your soul. Take in all the healing energy of the world around you.

Then let the universe lead the way.

**************************************************

More Language Of Letting Go

Honor your emotions

Inside me is a wheel, constantly turning from sadness to joy, from exultation to depression, from happiness to melancholy. Like the flowers, today's full bloom of joy will fade and wither into despondency, yet I will remember that as today's dead flower carries the seal of tomorrow's bloom, so, too, does today's sadness carry the seed of tomorrow's joy.
–Og Mandino, The Greatest Salesman in the World

Honor your emotions, they are an important part of you. They hold your connection to love, passion, joy, healing, and intuition.

Not having emotions would make us cold robots. Emotions are part of the glory of being human, and they're our connection to our hearts.

Respect and treasure your emotional self. Learn to cherish your variety of emotions.

God, help me become the passionate, vibrant human being you created me to be. Help me feel all my emotions, and embrace the glory of being alive.

**************************************************

In God's Care

The man who views the world at fifty the same as he did at twenty has wasted thirty years of his life.
~~Muhammad Ali

We can be changed, sometimes profoundly, by seemingly insignificant events – provided we are willing to be touched by them and the people involved. How we thought and what we dreamed for in our youth was fitting for that time and place. But those thoughts and dreams may be too small for us today. Now, each moment calls for new dreams, shaped daily by the events and people we open ourselves to.

We're most fully alive when we're learning, changing, and growing. Not a moment passes that isn't rich with possibilities for insights and growth. Each encounter with people who cross our path offers us the chance for a deeper connection with our Higher Power. When we become entrapped by rigid attitudes, our spirit withers. God has given us life as a gift that wee must open. It's never too late to begin the clebration.

I will think of my life as celebration today, with me and the people around me as God's guests of honor.

**************************************************

Day By Day

Knowing our Higher Power

A good understanding of our Higher Power may be necessary for some of us, but we don't need to get stuck on any image. All we have to do is become willing to believe that a power greater than ourselves will help us get clean and sober.

Electricity works the same after a course in electronics as it did before the course. Like-wise, our Higher Power works the same for us before we understand how it operates. It gets down to this simple idea: It's less important that we understand God than believe God understands us.

Do I have faith in my Higher Power?

Higher Power, help me accept the fact that understanding your ways is less important than believing you are present in my life today.

I will apply my faith in my Higher Power today by…

**************************************************

Food for Thought

Growing Up

There is no magic. Nothing – be it person, place, or thing – is going to give us instant and permanent gratification. We keep thinking in the back of our mind that there is some way we can manipulate life into granting us all of our desires, even when they contradict each other.

When we seriously and with honest effort work our way through the Twelve Steps, we begin to grow up emotionally and spiritually. Abstinence from compulsive overeating makes this growth possible. It is not easy, but it is definitely worth the effort.

Acceptance and renunciation are necessary if we are to live with satisfaction in the real world. Grandiose illusions are of no help. We come to understand that certain foods, emotions, and attitudes are not for us if we are to maintain our sanity.

There is no magic, but there is a Power greater than ourselves. Who is directing our growth.

Grant me the willingness to grow up.

************************************************** ************

The Reciprocal Flow of Abundance
Giving without Expectations by Madisyn Taylor

It is in the act of giving that we find joy, without the expectation of anything in return.

Since giving and receiving are so intimately intertwined in our lives, we often expect that we can attract abundance by simply conducting ourselves in an openhanded fashion. Yet we find ourselves wallowing in disappointment when our ample generosity is not met with the expected results. The answer to this quandary lies in the expectations that, in part, initially prompted us to give. Though our intention is likely pure, we can unintentionally mar the beautiful experience of giving by focusing on what we will eventually receive in return. When we let go of the notion that we deserve to receive gifts based on giving gifts, bounty can once again flow freely in and out of our lives.

When the gifts you give are laden down with expectations, they cease to be gifts and become units of exchange that you are, in effect, trading for some reward. Thus, the reciprocal laws of the universe err on the side of the giver who shares for the sake of sharing. You may have seen this simple truth at work in your own experience, perhaps when life's busyness prevented you from spending too much time contemplating the results your charitable actions would ultimately have on the lives of others. It was likely then that you received the greatest gifts in return for your kindness. If you have trouble divesting yourself of your expectations, you may need to reflect upon the root of your inability to act in the true spirit of giving. Each time you make a gift, whether spiritual or tangible, ask yourself if there is something you hope to receive in return. You may be surprised to discover that you expect to be repaid with an easy life, financial windfalls, or opportunities.

To integrate this most selfless form of generosity into your life, you will have to let go of your need to be in control. Accepting that while like inevitably attracts like, it typically does so on an unobservable timetable. This can help you stop weighing the gifts you give against those you have received. Giving eventually becomes a profound joy that stands alone, separate from any and all conditions, and you will learn to appreciate the flow of reciprocal abundance as a gift in and of itself. Published with permission from Daily OM

**************************************************

A Day At A Time

Reflection For The Day

In many aspects the Fellowship of The Program is like a reasonably happy cruise ship or, in time of trouble, like a convoy. But in the long run each of us must chart his or her own course through life. When the seas are smooth, we may become careless. By neglecting Step Ten, we may get out of the habit of checking our position. If we're mindful of Step Ten, however, then we rarely go so far wrong that we can't make a few corrections and get back on course again. Do I realize that regular practice of Step Ten can help me determine what other step is indicated to bring me into a happier frame of mind and into serenity?

Today I Pray

May step Ten be a sextant by which I read my whereabouts at sea, so that I can correct my course, re chart it if I am heading for shallow places. May I keep in mind that, if it weren't for an all-knowing Captain, and the vigilance of my fellow crew members, this ship could be adrift and I could easily panic.

Today I Will Remember

To steer by a steady star.

**************************************************

One More Day

There is a certain state of health that does not allow us to understand everything; and perhaps illness shuts us off from certain truths; but health shuts us off just as effectively from others.
– Andre Gide

When we were healthy, it was hard imagining what someone in poor health was going through. We could sympathize — even empathize — but we were insulated from the reality because we had no personal experience with illness.

Now, our diminished health allows us to put ourselves in someone else's shoes. Many of our friends and family don't always know how to act toward us or what to say. They're the ones who may be uneasy about facing our world. We can help them because we know what they are experiencing.

I will be compassionate to my loved ones as they strive to help and understand.

*****************************************

One Day At A Time

APATHY
"The world is a dangerous place to live;
not because of the people who are evil,
but because of the people who don't do anything about it."
Albert Einstein

In my life as an addict, I found myself deteriorating in every way possible. I was spiritually hungry, emotionally bereft, and physically a mess. I stopped caring about people, places or things. I was apathetic to such a degree that I no longer cared about anything.

That gradually changed when I embraced the Twelve Steps. I began to open my eyes to the world around me ~ the world I had shut out. The more I worked the Steps, the more I saw the reality of things. I became less selfish and began to try to make a difference -- not only in my own life, but also in the lives of those I cared about. I found myself loving more. I found I was once again capable of having compassion.

I am no longer afraid to speak out when I see misdeeds. I don't cower before those who would do harm to others. I embrace the good and the bad in this world I call home.

One day at a time...
I will do my part in making the world a better place. I will listen and hear what my Higher Power has in mind for me.
~ Mari

*****************************************

AA 'Big Book' - Quote

When working with a man and his family, you should take care not to participate in their quarrels. You may spoil your chance of being helpful if you do. But urge upon a man's family that he has been a very sick person and should be treated accordingly. You should warn against arousing resentment or jealousy. You should point out that his defects or character are not going to disappear over night. Show them that he has entered upon a period of growth. Ask them to remember, when they are impatient, the blessed fact of his sobriety. - Pg. 100 - Working With Others

Hour To Hour - Book - Quote

The world is not consistent, you are not consistent, and those around you will not always be consistent. We don't have to be. We only have to remember not to use mind-affecting chemicals right now and our world will improve.

When inconsistency scares or annoys me, let me understand that to remain always constant would be like a plastic plant, never to grow and change!

Inner Hearing, Inner Sight

Today, I will trust my own heart. The clear message that whispers within me has more to tell me than a thousand voices. I have a guide within me who knows what is best for me. There is a part of me that sees the whole picture and knows how it all fits together. My inner voice may come in the form of a strong sense, a pull from within, a gut feeling or a quiet knowing. However my inner voice comes to me, I will learn to pay attention. In my heart I know what is going on. Though I am conditioned by the world to look constantly outside myself for meaning, today I recognize that it is deeply important for me to hear what I am saying from within. I give myself the gift of listening.

I will trust my inner voice.

- Tian Dayton PhD

Pocket Sponsor - Book - Quote

No one wants to hear the Sermon on the Mount or Zen philosophy when they're trying to save their ass. They want to know what to do--not hear words of wisdom. Tell them what you did.

I do not get so spiritual, that I am of no earthly value.

"Walk Softly and Carry a Big Book" - Book

If you think you have a good idea you might want to get second opinion from your sponsor.

Time for Joy - Book - Quote

I am at choice today. I accept the responsibilities of my life with a new sense of maturity, confidence and even excitement.

Alkiespeak - Book - Quote

I went through life waiting for a space ship to land and a voice to say: 'Sorry, dropped you on the wrong planet, time to go home now.' - Trip S.
__________________
appy Thurs!!! Crush it today!!!