Let Go and Let God
●▬๑۩۩๑▬●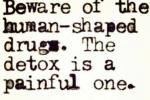 Join Date: Apr 2013
Posts: 1,405
Let Go and Let God
---
Let Go and Let God
Staying in Today
~By Buddy T
I really thought that I had Let Go and Let God many times in my life as I tried to deal with living with an alcoholic. I tried and tried to let God "handle" the alcoholic in my life.
I had a spiritual "program" before I came into these rooms and I tried to work it the best I knew how. But the point I guess I missed, was not letting go of and letting God handle my life! It never occurred to me that I just might be a small part of the problem!
I was very good at wanting to sic God on everyone else, but it never occurred to me that I might just need a spiritual awakening of my own. Al-Anon and the 12 steps straightened my thinking out on that point!
Staying in Today
It also never occurred to me that one of the most important things that I needed to let go and turn over to God were yesterday and tomorrow! I spent entirely too much time dwelling on what already happened -- things that neither I nor God could do anything to change.
I spent a lot of my time going over and over words that had long since been silent --words that everyone had forgotten but me. I also spent a lot of time worrying about what hadn't even happened yet --going over and over what I was going to do or say, or what others would probably say or do.
Now Is Enough to Deal With
Many times no one ever said or did those things I spent so much time "projecting" would happen.
Thanks to Al-Anon, I now know that I all I have to deal with is today! That makes it easier for me and keeps it simple in letting go of this moment and turning each moment over to God. "Now" is all I have to deal with and sometimes that is more than enough!
| | |
| --- | --- |
| The Following 5 Users Say Thank You to cynical one For This Useful Post: | |
Currently Active Users Viewing this Thread: 1
(0 members and 1 guests)

Posting Rules
You may not post new threads
You may not post replies
You may not post attachments
You may not edit your posts
---
HTML code is Off
---